MockAnalysisIsMyDrug

Posts

: 174


Reputation

: 226


Join date

: 2019-11-19

Tue Nov 19, 2019 11:07 pm
Hello AMTA community!
We at Mock Analysis Is My Drug are extremely excited for the unofficial beginning of the AMTA season with the case release on Wednesday, August 15th! We're all about to dive headfirst into preparing the case for early season invitationals.
But before all that prep starts, we thought it'd be fun to preview the 2018-19 season and make some predictions before we get any indications from the case about which programs might and might not be successful. So we put our heads together and created everything below so that we can start a discussion about where every program stands and where they'll go moving forward. This post has 4 parts: (1) a table of which competitors graduated from each 2018 NCT roster, (2) our MAIMD top 25 Power Rankings for the upcoming season, (3) a list of individual competitors to look out for, and (4), some predictions for this year's tournament results.
Everything here is meant to start a discussion. We don't expect everything we have to be correct or that everyone will agree with us. But we hope that you find this post interesting and engaging as we transition into another exciting year of mock trial!
Individual Competitors to Watch 2018-19
We analyzed tab summaries from the past two seasons as well as compiled thoughts based on the rounds that each of our contributors have seen. From that analysis, we've crafted a list of accomplished individual competitors returning for the upcoming season that we think will perform particularly well. Some of these individuals made the list for taking an extraordinary number of awards this year, others may have taken fewer awards (particularly if they were overshadowed by someone who has now graduated), but based on our experiences with these individuals we think all of them will be stand outs this year. Please let us know who we've missed - we're certain we don't have every elite competitor in the country on this list!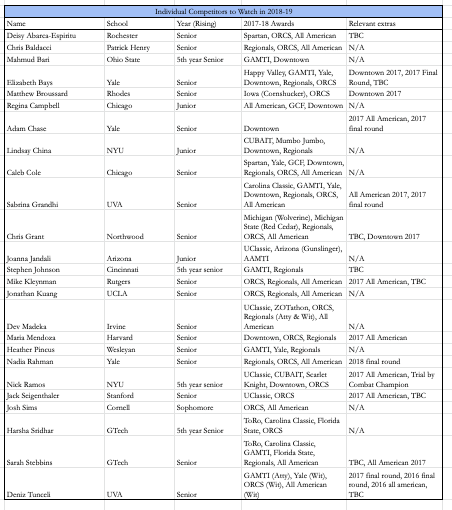 Mock Analysis is My Drug Preseason Predictions
Below, we've included our predictions for how some major events will turn out in the 2018-19 season. These are the result of a lot of discussion and debate among our contributors. As you would expect, and appropriate of the inherent subjectivity of mock trial, we weren't able to reach a consensus on any of the questions. But the predictions below represent the majority opinion of our group. We're particularly excited to revisit this list at the end of the year and see how we did! If you have other predictions like these feel free to share them. .
Comeback Team of the Year - Yale University A team
GAMTI champion - University of Virginia
Teams in the Downtown final round - NYU & UCLA
Downtown Champion - New York University
Program most likely to get two teams to NCT - Rhodes College
Team that goes undefeated through Regionals & ORCS - Rhodes College
Most likely for B team to outplace A team - Rhodes College
Teams in the NCT final round - Yale & UVA
National Champion - Yale University
Top Attorney - Nick Ramos, New York University
Top Witness - Caleb Cole, University of Chicago
Permissions in this forum:
You
cannot
reply to topics in this forum