MockAnalysisIsMyDrug

Posts

: 174


Reputation

: 226


Join date

: 2019-11-19

Tue Nov 19, 2019 11:42 pm
Initial Thoughts:
Competitors:
Mary-Preston Austin, Wheaton College
Mary-Preston Austin is one of the most awarded competitors out there (she has more awards per year of competition than anyone else on this list). That being said, she awards primarily at tournaments where she is playing weaker teams. She is one of the few competitors on this list with no All-American and she hasn't made our MAIMD Top Performers list in either of the past two years, in large part because Wheaton simply isn't going to invitationals that meet our 25% Nationals teams criteria. This isn't to say that her awards aren't impressive or that she won't shine in a better field, but rather that we haven't yet seen what she can do when faced with the best competitors in the country. In terms of style, Austin tends to be harder hitting on content than presentation with intelligent objections and solid scripts that are liable to wreak havoc on a team unready for her meticulous preparation. It will be interesting to see how she faces off against this field where, for some of her opponents, that kind of technical material is their bread and butter and will not catch them off guard. Alternatively, since her style feeds on competitors who aren't fully prepared for the trial, she could end up thriving on the 24 hour prep period. For her coach, she is bringing Chris Prescher, a Wheaton alum who is well awarded in his own right (6 individual awards, which places him in the TBC range himself). Prescher also competed on a team that attended Nationals every year during his tenure at Wheaton, including the early years of the new case prep, so working on unexpectedly or uncomfortably short timeframes will be no stranger to him.
Elizabeth Bays, Yale University
Bays has carved out a niche for herself as a competitor. Bays plays a style of mock trial that is founded in raw intelligence and unflappable logic. She's been known to use nested objections, lay traps for opponents, and come up with unforeseeable case theories. Bays moves two steps ahead of any opponent, and she conveys her arguments quickly enough that most people simply are not able to keep up. But with this style also comes the risk of extreme polarization. Judges who prioritize civility and likeability will immediately not be fans of Bays. Her performances at the past three National Championship Tournaments exhibit that. As a sophomore in Los Angeles, where scorers prioritize entertainment and showmanship, Bays captained a team to the final round. As a junior in Minneapolis, where kindness and pure likeability matter more, Bays captained a team to finishing 23rd in the division with a record of 2-8-2. And as a senior in Philadelphia, where the aggressiveness of the Northeast plays well, Bays guided a relatively hodge podge team to the national championship round. We think Bays is built to clean up in the attorney rounds with her ability to get material up to speed quickly and improvise, but the witness portion could prove her downfall without the natural charisma of some other competitors to fall back on. Bays is bringing the same coach she brought last year, her father Timothy Bays. These two have an established rapport in competitions like this, having worked together in both last year's TBC as well as high school Gladiator. So while other pairs will spend some time figuring out how they want to proceed, Elizabeth and her father can hit the ground running.
Regina Campbell, University of Chicago
Regina Campbell has made a name for herself over the last two years as a standout competitor on a strong Chicago team, winning her first All-American in 2018 as a sophomore on a bench with two other All-American attorneys. She picked up her second this year on her way to Chicago's third place divisional finish, their best in at least seven years. Her style manages to blend aggressive and shockingly casual (enough to be willing to do an air kick in closing), coming across as more natural than much of the TBC field. This combination gives her more freedom in witness control, allowing her to build momentum on cross and cut off witnesses without irritating judges. However, judges who prefer stricter adherence to courtroom procedure and formalities could find something to dislike in her performance. Campbell is exceptionally strong on her feet, incorporating a lot of improvised and adaptive material during trial and delivering particularly compelling rebuttals. Surprisingly, her most scripted components tend to be her objections, which are usually clever and well-prepared but less adaptive. While Campbell has no witnessing experience whatsoever, her natural demeanor may translate well to the role if the TBC case gives her the right characters. We'll be interested to see how this stacks up against other primarily attorney competitors in witness roles. For her coach, Campbell is bringing Samuel Jahangir, a Chicago attorney coach and member of the AMTA Civil Case Committee.
Daniel Elliott, Rhodes College
This past April, Daniel Elliott helped lead Rhodes College to their first final round appearance since 2013, earning an All-American attorney award in the process. This followed his ORCS appearance a month earlier where despite a rocky start by Rhodes A, Elliott earned 19 ranks, winning another attorney award. Elliott takes control of the room and takes the fight to his opponent at every opportunity. On cross examination, he doesn't mince words. Elliott excels at boxing opposing witnesses into a corner, battering them with question after question until everyone in the room, including the witness, agrees with his interpretation of the facts. In instances where the witness fights back to this, Elliott's style is such that the witness almost undoubtedly will look evasive and disagreeable as a result. Elliott has honed this demeanor to the degree that the 24-hour preparation window shouldn't be of much concern, as his solid performances stem more from a strong and imposing presence than strings of questions form-fitted to each case. This strategy can backfire on him however. If it isn't clear what his point is as he's approaching the hard-hitting questions, judges can sometimes become disenchanted and dock him for seemingly asking questions without purpose. When he gets to the hard-hitting questions, it can sometimes come across as overly aggressive to a judge who prioritizes kindness. At the highest levels, improvisation and force of personality can be the difference between two standout competitors, and Elliott's style could play directly to what's needed to succeed here. Elliott will be bringing as coach Connor Hurley, the captain of Rhodes' B team and newly-anointed All-American Witness. Hurley, received a witness award at Regionals and last year's Memphis ORCS in addition to Nationals, and has a proven track record playing credible witnesses. His style is typically calm and steady, and he will provide Elliott with the perspective of a successful witness that does not rely heavily on outsize character. This will be valuable for Elliott for the witness rounds, in which his primarily attorney-focused approach will lend him less comfort exploring extravagant characters, while for the 24-hour window the assistance of another experienced captain will be invaluable.
Natalie Garson, Boston University
Natalie Garson of Boston University and formerly of the University of Washington has had a fairly tumultuous season. The A team from Boston University, of which she was a part of, failed to qualify out of Regionals after a bad split with Yale A. A few weeks later, the same team failed to qualify for Nationals out of ORCS. She finally found success on the combined A/B team that BU sent to Nationals which placed 7th in their division. But none of this tumult seems to be the result of a lack of effort or performance on Garson's part. She has awarded at every tournament level this AMTA season. Style wise, Garson is supremely confident, polished and collected. She never appears flustered. This is an attribute that will stand her in good stead in a 24-hour window in which everyone will be underprepared. In terms of content, Garson focuses on simple material presented cleanly, so don't expect shocking theories or highly unusual material. Instead we expect her to gain traction by seeming real and credible in the courtroom when compared with flashier, more flamboyant competitors. On the other hand, Trial by Combat is in Philadelphia, where we just saw some of the most performative teams shine the brightest. If that is indeed the preference among this judging pool, we worry that Garson's simple clean style may get swallowed up by some of the flashier competitors. Garson is bringing Zachary Cloud, one of the coaches from Boston University. He coached two teams to very strong records at ORCS this year and has contributed consistently to strong placements for BU over the last few years. He also works as a Public Counsel, a job which often demands short prep times so this should be a familiar field for him.
Sydney Gaskins, University of Maryland, Baltimore County
Sydney Gaskins comes into TBC as easily the most inexperienced competitor, as she's competing as a rising junior. But don't let that fool you. Even with half as much experience of some of the other names on this list, Gaskins still has more awards than just about half of the rest of the field. Her directs are incredibly dynamic, and she is able to take down defendants and experts alike with her natural charisma. UMBC hasn't gone to as many top tournaments as other schools represented in the TBC field, so Gaskins hasn't had as many opportunities to match up against the highest competition, but she's availed herself well when given the opportunity (attorney awards at GAMTI and Nationals). Gaskins' biggest weakness is her tendency to over-script. While she occasionally varies, she tends to be at her strongest when she stays in her comfort zone -- material that she has refined, rehearsed, and knows backwards and forwards. Given this tendency and her lack of experience, Gaskins may struggle to pull off the adaptation and improvisation needed at Trial by Combat - where people who shine at being put on the spot typically rise to the top. If Gaskins is to succeed, it will be through over-preparing and ensuring that there's nothing she hasn't at least thought about beforehand. Her coach, Ben Garmoe, may be one of the best people for that. Garmoe has also coached Gaskins for the past two years as UMBC A's head coach. Gaskins and Garmoe found a great rhythm together this past year, and while both have never had to construct a case in a day, we are sure that they will both not waste a second of their 24 hours.
Sabrina Grandhi, University of Virginia
Grandhi is one of two people on this list who has been to the Nationals Final Round twice, winning the National Title in 2017. In addition, she's one of the leading award winners for UVA over the last two years and is tied for the highest number of All Americans in the field. As someone who is primarily an opener, she is likely to have a bit of an edge over a closer heavy field since a win on opening can set the tone for the entire trial. She also primarily crosses character witnesses, which will stand out against this field of party/expert crossers. Depending on what kind of witnesses Bernstein chooses to include, that may be a major bonus or a major hit for her. Gandhi's strength primarily lies in her courtroom presence and presentational abilities, where she is highly polished and professional. She is less adept at objections and technical matters than much of the rest of this field and particularly with the shorter prep time, that may show. One of the biggest questions we have about Grandhi is how far the UVA polish goes. They have demonstrated in the last five years that they are one of the few programs that can consistently achieve the level of polish and prep demanded at the highest levels in the shortened window before Nationals. That is particularly important since that is their primary strength, but it is unclear whether the Nationals prep period can also be scaled down to 24 hours. Grandhi will be coached by Toby Heytens, the longtime UVA coach whose technical skills may shore up some of Grandhi's weaknesses. Heytens has coached teams to three national finals including two with Grandhi, herself, on the team.
Christopher Grant, Northwood University
Chris Grant is the definition of cool, calm, collected. By speaking in such a level and controlled tone, he brings people in and then wows with his confidence and pure charisma. Grant is a proven success with a whopping 24 awards including 3 All-Americans. This year alone, Grant received double awards at Yale and the Wheaton Regionals, as well as a single sided award at Black Squirrel and the Geneva ORCS. Skeptics of frequent award winners often claim that someone who wins awards a lot is simply accompanied by a weaker bench. While this is of course not true for the case of Grant, it is impressive to note the success of his program as a whole as well. Grant has helped rebuild Northwood into the returning Nationals contender that they are today after multiple off years. Grant himself competed at Trial By Combat last year, and while we know that Grant wasn't in the top 5, the experience gained will only help Grant as he begins to prepare for this 24 hour trial prep. What is likely to hold Grant back most is his lack of ostensible intensity in the face of more animated, dynamic competitors. While Grant has the occasional volume increase, his soft confidence may get outshined by some of the louder, more aggressive styles in the field. Additionally, while Grant knows courtroom procedures well, his objections are often less succinct and spoken at a slower pace than the general field at TBC. This may potentially confuse or rub judges the wrong way if they find his style sarcastic; others will fall in love with his slow, hypnotic tone. This competition will be Grant's last chance to compete in college mock trial, so it will certainly be a chance to put all his awards and experience to the test to see if he can improve upon last year. Grant will be bringing along long time coach of Northwood, DeLois Leapheart. Leapheart is the Reynoldson Award winner for 2009 when she coached a team to a National Championship, and is a new member of the Coaches Hall of Fame.
Claudine Isaac, New York University
Claudine Isaac has one of the lower award counts on this list, but don't let that fool you. Her low count seems to primarily be the result of having had to spend her time sharing a bench with stand outs like JP Baratta and last year's TBC winner, Nick Ramos. Since they graduated she has taken an award at Tufts, Black Squirrel, GAMTI, Shutdown Showdown, and ORCS which is quite a lot for a single year. Isaac has a powerful, loud presentation style that attracts attention in the courtroom. She tends to run less unusual content than the NYU teams of the past, but she shares the flair for drama that has made that team great. She makes it very difficult for a witness to get any room in on cross examination simply with her presence in the courtroom. That being said, She is also pretty clearly a by-the-script attorney, so while she may share some of the same presentational advantages of our reigning TBC champion, it remains to be seen whether she will be able to pull off the adaptability necessary for TBC. As far as we are aware Isaac also doesn't have any witness experience, so she may struggle there as well. For her coach, she has chosen Amanda Tuminelli, coach of NYU mock trial up through the end of 2018, and purveyor of some of their wilder theories. Tuminelli is also the only coach to have ever won TBC, and when she herself captained NYU she lead them to a national championship, so clearly she is doing something right.
Stephen Johnson, University of Cincinnati
Stephen Johnson qualified for TBC last year in the middle of the pack awards wise and did not place at the top of the pack. This year however, Johnson has taken off in terms of awards with 10 this season alone, culminating with his top rank All American at this year's NCT. Johnson plays a straightforward, polished, credible style of mock (common to many top male attorneys in the Midwest) that will save him from many of the polarization issues faced by many competitors in this list and score him points with in rounds where other competitors may get flustered or over the top. In a field like this where there are few experienced witnesses, natural credibility will also serve him well as it will allow him to slip into most characters, be likable and earn the "credibility" check mark with ease. Where we expect Johnson might struggle are the more technical aspects. Cincinnati is another program that takes a while to develop their content and Johnson has never been a particularly stand out attorney on objections. This is likely to cause problems for him in such a short time frame. Johnson will be the only returning competitor to switch coaches from last year to this, switching from the longtime coach of Cincinnati Mock Trial, Josh Leckrone, to his girlfriend, Julia Greve. He will forgo the advantage he may have gained from having the same coach as last time (i.e. they would have done this together before). However, having a co-counsel as your coach can also provide a level of facility and speed that an adult can't. Greve herself has three attorney awards to her name.
Sangeetha Kannan, Penn State University
Sangeetha Kannan entered this field originally as the alternate but has been added to the main field in the last week. Luckily for her there will be no disadvantage to finding out that you will be competing late at this tournament (unlike most others) given the 24 hour format. Kannan is a well-deserved addition to this year's stellar TBC field. Her style is less flashy than some of the competitors in this field, but she was one of the anchors on a Penn State team this year that fought its way through a tough Hamilton ORCS. Sangeetha won a 2019 All-American Attorney award in Philly, and we think her calm under pressure was a major reason why. She isn't going to bring fire like some other competitors, but her objections and responses are sharp and she wins over witnesses and judges with calm confidence, especially with expert witnesses. At Nationals, she anchored a young Penn State team, and her style seems likely to score well with Philly judges again at TBC. She might be a long shot to win the tournament given some of the firepower in the field, but it's certainly not out of the question given her ability to find a rapport with the judges that has served her well so far. Kannan will be bringing her teammate, Caitlin Conway. Conway won an All-Nation attorney award at both the 2019 and 2018 ORCS, and served as the captain of the Penn State A team.
Mike Kleynman, Rutgers University
Mike Kleynman returns after an impressive 4th place finish at Trial by Combat last year, where he won 70% of his ballots despite facing the highest CS of the top 5 competitors. Kleynman's 11 awards may not seem like much, but his 3 All-American's say differently. Many were shocked when Rutgers didn't make it to Nationals this year despite returning almost their entire team that had made it to Nationals the two previous years. It seems likely that Kleynman would have a fourth All-American had they made it out. Still, Rutgers faltering this year is definitely room for concern. Kleynman's sweet-talking, consistently pleasant style seems unlikely to have been the explanation. Shockingly, Kleynman's award at ORCS (16 ranks defense) was on the side that Rutgers went 0-3-1 on, rather than their 3-1 plaintiff (they hit Cornell A and Fordham Lincoln Center A which, once again, indicate Kleynman's ability to outperform great competitors). Rutgers typically surrounds Kleynman by a far more aggressive bench and allows him to shine as the controlled, level-speaker of the group. That being said, Kleynman's presence on speeches cannot be undersold, he commands the courtroom and uses a full vocal range. Kleynman has never been well-known for his ability to improvise or his knowledge of the ROE, but whatever he did last year seemed to work! In fact, seeing as Nick Ramos and Rachel Sommers aren't competing, last years results suggest that we may have a Seigenthaler v. Kleynman final round - a matchup we would be dying to see. As his coach, Kleynman will be bringing Michael Roberts, the Rutgers coach who brought the Rutgers team to their 2012 national final and brought Kleynman to a fourth place finish last year.
Jonathan Kuang, UCLA
Jonathan Kuang is coming off his second consecutive All-American attorney award, but even that fact doesn't quite do justice to his remarkable consistency in official AMTA competition -- in the past two years he's received an attorney award at all 6 of the Regionals, ORCS and Nationals tournaments he's attended. The comfort Kuang displays in AMTA competition is reflected in his demeanor. He is loose and relaxed in the well, continually imploring the jury to see the clear merits of his case. Kuang's style is notable for its blend of folksiness and righteousness, and he is particularly adept at crafting turns of phrase which connect his client to matters of moral certainty in his audience's hearts. This is certainly Kuang's greatest strength. While other attorneys burden themselves with technical arguments, Kuang seems to somehow consistently pull juries out of their chairs with his empathetic appeals. Kuang doesn't just try to convince juries of the merits of his case, he gets them to participate, often zooming in on little details that make his client's story real for the jury and the other side's absurd. As his results show, this approach is consistently effective. Kuang's most visible weakness stems from that strength. Kuang relies heavily on his remarkable ability to get the jury to see merit in even his most specious arguments. This can result in presentations that aren't tightly structured, and while 90% of the time he may be able to will his way out of a corner, the 10% stings. Against top competition the room for error will be near null, and he risks losing the trust of judges if they begin to question to what degree his confidence matches his competence. For TBC the 24-hour window should if anything work in his favor, and it would not be surprising to see Kuang make serious noise in Philadelphia. For his coach, Kuang will be brining Steven Borello, affectionately known to the MTC world as Track Suit Guy. He has been coaching UCLA for several years with great success, and is often deeply involved with the competitors until just minutes before the rounds. Like the other Public Defenders on this list he will be used to working with a short prep time.
Jack Seigenthaler, Stanford University
Representing the Bay Area we have the 3rd Best Advocate in the country from last year's Trial by Combat. After a finish to Seigenthaler's AMTA career which brought him both an additional All-American and a disappointing record for his team, he'll be gunning to end his undergraduate career with a Sword. And with Ramos and Sommers out of the way, he's the best returning advocate this year. Seigenthaler's style is probably as performative as you can get for an attorney. He excels in connecting with the jury on an emotional level, even using his ability to crack his voice at will, coming off as genuinely pained by what happened. He comes off as likable and trustworthy. He alternates between filling the courtroom with volume, presence (aided by the fact that he is taller than most of the advocates this year), and a tendency to utilize the entire well during his presentations, drawing the jury in for quiet emotional moments. All of this makes for a deadly combination that defines Seigenthaler as a natural standout in this field. In terms of weaknesses, Seigenthaler isn't known to be as MRE savvy as some of our other competitors in this field. And this year he didn't pull as many awards as he's used to, only winning 1 award, though this award was of course, an All American. For his coach, Seigenthaler will again be brining Thom Scher the coach of Stanford Mock Trial. Scher is probably the most successful coach ever to participate in the Bernstein led 1-on-1 competitions. Last year he coached Jack to a third place finish at TBC and in Gladiator (the high school version), he has accumulated two championships and a second place finish in just four years.
Sarah Stebbins, Georgia Tech
It says something when one of the big shocks of nationals is your not getting an award. Sarah Stebbins is undoubtedly the best awarded person on this list. She is tied for the most All-Americans with Sabrina Grandhi, and unlike several of the multiple All-Americans on this list all of hers were won by rank rather than collected by being on a team that made the national final. She has the most award over all despite the fact that Georgia Tech generally plays a relatively difficult invite schedule. Stebbins also won two of her All American in years when Georgia Tech was very close to winning their division and was playing some of the top rounds. Stebbins placed 5th at last year's TBC and will be hoping to win it all this year. Style wise, Stebbins is calm and polished. She is less aggressive than many of the attorneys on this list but still manages to make her points. The biggest barrier for her is going to be flashiness. Stebbins is all around an excellent attorney which will stand her in good stead in a tournament where being able to do consistently well in all areas of competition is important, but she may meet her downfall when faced with someone who simply makes the courtroom more exciting and thus gains momentum against her. On the other hand, as we pointed out last year, that may make her less polarizing. Just like last year, Stebbins will be bringing Will Warihay, AMTA's president to coach her. Warihay has led Georgia Tech well for years and the pair did well together last year, so we expect good things from them again.
Steven Torres, Cornell University
Steven Torres has led two different teams to incredibly high placements at Nationals. Last year, he took an All-American as part of the Cornell B team that surprised most people by out-placing their A team and taking 4th. This year he repeated the performance with another All-American and a 3rd place in the division (staying in contention for the top spot until the very end). Even more impressively, he managed to do this on the same side that his co-council Eric Szakiel too won an All American, so he didn't have easy competition. Torres is also one of the few competitors on this list with multiple witness awards which will stand him in good stead in a field packed with people who are likely to struggle on that front. In terms of style, Torres tends not to be an elaborate presenter, but he has some good rhetorical flourishes and he is good with the common sense points. His teams have also had a tendency towards very out of the box theories this year (even approaching the line with invention a few times). So he is one of the couple people in this field who you should keep an eye on if you are looking for weird strategies (although we don't know if he is the one driving the weird strategies for Cornell). Torres will be bringing Hudson Lifflander, his fellow senior and co-captain from Cornell Mock Trial. Lifflander has been working with Torres all year so they should have a good team dynamic and that dynamic has performed very well at tournaments so far so we expect it to do well again.
Individual Award Breakdown
When possible, these numbers were taken from the website of each competitors' respective team. When these records were unavailable, we used publicly-available AMTA tab summaries. If we missed any awards, we invite any competitor to message us or post below with a list of individual awards and we will update the table.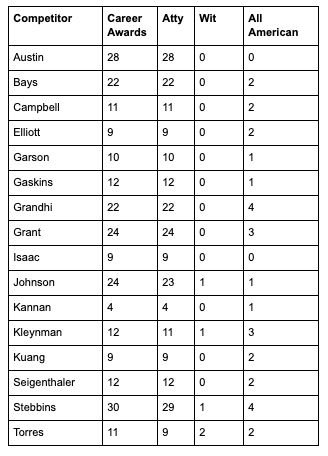 Permissions in this forum:
You
cannot
reply to topics in this forum