MockAnalysisIsMyDrug

Posts

: 174


Reputation

: 226


Join date

: 2019-11-19

Tue Nov 19, 2019 11:49 pm
Hello AMTA community!
We at Mock Analysis Is My Drug are extremely excited for the unofficial beginning of the AMTA season with the case release on Thursday, August 15th! We're all about to dive headfirst into preparing the case for early season invitationals.
We thought it'd be fun to do the same thing we did last year and preview the 2019-20 season in order to make some predictions before we get any indications from the case about which programs might and might not be successful. So we put our heads together and created everything below so that we can start a discussion about where every program stands and where they'll go moving forward. This post has 4 parts: (1) a table of which competitors graduated from each 2019 Top 10 NCT roster, (2) our MAIMD top 25 Power Rankings for the upcoming season, (3) a list of individual competitors to look out for, and (4), some predictions for this year's tournament results.
Everything here is meant to start a discussion. We don't expect everything we have to be correct or that everyone will agree with us. But we hope that you find this post interesting and engaging as we transition into another exciting year of mock trial!
Personnel Status of the 2019 Top 10 NCT Teams for the Upcoming Season
In the table below, we have compiled data on which competitors are graduating each team that competed at Nationals in Philadelphia and placed in the Top 10 in their division. We used this information in creating our Power Rankings - for example, although Rhodes qualified to the final round in 2019, they are losing 9 out of 10 of their A team members, including every competitor from the final round. On the other hand, a team like Ohio State B is losing almost no competitors from their top-10 roster. Of course, not everybody who is eligible to return will necessarily return - so please PM us if we missed anything.
Top 25 Power Rankings
Mock Analysis is My Drug is pleased to include our Preseason Top 25 Power Rankings. These rankings were based on a composite of the rankings of all of our contributors, based on our own competitive experiences from previous seasons as well as tab summary analysis and number-crunching. These rankings are meant to reflect overall team power from the very first invitational all the way to the National Championship. We recognize that these types of rankings are inherently subjective
1) Virginia A
UVA has been the most consistently high placing team in the nation in the last five years. Since the new case for nationals they have never placed worse than 3rd in their division and their final round record is the best behind Yale (who also have bad years). Even when they lose strong competitors, UVA's abundance of coaches and strong programmatic style and method carry them through to impressive performances. No matter the year, no matter their roster, they can beat just about anyone on polish, cleanliness, and professionalism. The biggest question mark for this year is how their program will deal with the loss of Deniz Tunceli and Sabrina Grandhi, their two competitors who have been taking the lion's share of awards for the last two years. That being said, much of the rest of their team skewed young this year, with a number of talented freshmen and sophomores. In past cases with a young team supported by good leadership and programmatic strength, the loss of one or two star competitors can be a catalyst for growth in younger members who have space to shine. If we see that with UVA this year, we will expect to see them in the final this year. Otherwise we still expect them to place top five. Thus they take the top spot on our list since we are most confident in a high placement from them.
2) Chicago A
Chicago experienced one of the biggest heartbreaks of Nationals this past year. They go 8-0 across the first two rounds, sitting at the top of the division. Then they end up in a high-high Round 3 pairing against Rhodes, who was 7-0-1 at the time. Rhodes then sweeps Chicago, including two ballots that go Rhodes' way by just 1 point. Chicago then finishes at third in the division. This team is right on the border between a really talented team that can't get to the mountaintop during Nationals prep and one of the truly top teams that has figured out how to reach it. This year will tell us about where Chicago as a program will end up. They have the raw talent to pull it off. Regina Campbell is a force of nature and top level players like Sahil Nerurkar, Henry Hopcraft, and Peter Bound (top McCoy at Shutdown Showdown) fill out the rest of the roster. And they're coached by AMTA Board candidate Sam Jahangir, who also coached Campbell at TBC. On a pure talent metric, this team may be the best out there. They just have to figure out how to compete with the other teams at the very top level. We think that this year is the year that a team beyond the top 4 (Yale, Virginia, Rhodes, Miami) breaks to the final, and we think that team will be Chicago on their home turf.
3) Miami A
We learned our lesson. We thought that Miami graduating every competitor from the 2018 final round would signal a decline for the Redhawks - we had them ranked 12th in our preseason rankings last year. But they proved us wrong by earning two bids to Nationals and having their A team place 2nd in their division. This year, Miami is poised in a much more advantageous position to push for the final round. They only graduate three players, one of whom was only on the A team for one tournament. They return players like Maddie Witte (TBC) and Max Rossi. Miami is one of the Big 3 system programs (Virginia, Rhodes) and the coaching staff will always put this team into a position to succeed. The players they have are perfectly designed for what the coaching staff wants to do as well. Miami plays a style that is predicated on taking the fight to the other team and stepping on the throat. This team will be dangerous come April.
4) Yale A
This is by far the most difficult team to evaluate for this year, for obvious reasons. They've made five straight final rounds, in part on the back of a style that prioritizes unexpected theories, objections, and raw performative-ness. The question here is the approach that Yale takes this year after the sanctions took away some of their top players for ORCS and NCT, like Joe Young-Perez, Andy Parker, and Sam Gross, as well as preventing Elizabeth Bays from assisting the team at all next year. Will they double down on the style of theories and try to walk the line between creative and sanctionable, or will they approach things in a more cautious way and go for stability over flash? Even with the sanctions, this team has some talent that can threaten for the top, in players like our preseason Top Witness Kai Nugent, and their four remaining eligible All-Americans: Mariana Suarez-Rebling, Alvin Winston, Kelsea Jeon, and Allison Du. We think this may be the year Yale's final round streak will be broken, but that they will still place in the top 10 at Nationals.
5) Rhodes A
While Rhodes may be graduating nine of the ten members of the A team that broke through to the final round, we've seen this movie before. Not just with Rhodes, but with other system programs like last year's Miami team and past UVA teams. While they are losing their A-team attorney corps, including TBC competitor Daniel Elliott and All-American Kelsey McClain, we expect last year's B team attorneys Jeena Piriano and Natalie Manoogian to be fully able to step into those roles. One thing to look out for with Rhodes this year may be a slight change in style. While McClain and Lillie Stephens, and to a lesser extent Elliott and Broussard, were extremely methodical in their approach and cautious in deviating from their script, Piriano and Manoogian have shown a willingness to improvise, make more objections, take a few more risks, and prioritize aggressive advocacy over a stately presence. Whether or not this changes as they take over as the face of the program will certainly be something to watch. Who will take the reins on the witness front is a bit less clear, with All-American and B-team captain Connor Hurley graduating, though we are less worried about this because of the premium Rhodes' coaching staff places on witness development. While Rhodes A is always a near-lock to make it to Nationals, we are not bullish on their ability to repeat as NCT Finalists. While we are confident that Rhodes will be Rhodes, too many questions remain with so much turnover at the top of the program.
6) Cornell A
Cornell is another program on the edge between the top tier and the second rung down. In the past two years, they've been led by dynamic senior leaders - first James Pinchak and then Steven Torres. Next year they look to have the talent to continue their recent run of success, with juniors Erik Szakiel and Josh Sims highlighting a dynamic lineup. But the question for this squad is the same as the question for Chicago. As they continue to lose people who have been driving things forward, will they be able to build the programmatic structure to maintain their performances and keep moving forward? Or will they fall back as they lose those central figures? Because Cornell is losing a higher percentage of people than Chicago is this year, we don't think this Cornell team will be the one to break through to the final. But they have the talent to do it and if not this year, the Szakiel/Sims duo will be back the following year even stronger.
7) Ohio State A
Ohio State has pretty recently grown into top tier national prominence. This program earned the distinction this year of having both their A and B teams place within the top 5 of their respective Nationals divisions. Coming out of 2018 NCT in Minneapolis, Ohio State A was only losing one member of their A team, All-American Eric Roytman. This year though, the Buckeyes are taking more losses. They lose double All-American Mahmud Bari, one of the best party witnesses in the country in Brooke Bowerman, and two dynamic double threat competitors in Jen Pantell and Jane Klaus. This team still has veterans Matthew Bessman and Clay Owens around to provide some stability. And OSU has clearly demonstrated their program depth. What we expect to happen here is for OSU A to retain its top level status with the B team competitors being able to fill in. And we expect that the Buckeyes will place Top 10 in Chicago as well.
UCLA A
UCLA has proven year after year why they're one of the most feared teams on the west coast. They usually breeze through Regionals and ORCS but UCLA's problem has been adjusting to the new case for Nationals. Since the change in 2015 to have a new case for nationals, the closest they've been to the final round was 3rd in their division which was the nationals in Los Angeles. They do consistently place in the top 10 which is why they're number 8 on this list, but with the loss of TBC runner up Jonathan Kuang and Gladiator winner Megan Jones, they'll need to step it up if they want a chance at another final round. With the return of smooth-spoken All American Gabriel Marquez and the addition of B Team members who earned an Honorable Mention in Philly, we're not too worried about their chances of making Nationals this year.
9) UMBC A
Talk about a meteoric rise for a program. UMBC came into the year as a team who didn't qualify to Nationals in 2018, and our expectations were not particularly high. In a blink, they confounded those expectations, winding up in the top Round 4 at Nationals and managing to take the best record against Yale out of anyone at Nationals This year, that team is only graduating one team member, Nihir Nanavaty. This team has the superstar competitor in Sydney Gaskins. It has talent across the board in players like Ethan Hudson and Natalie Murray. And it has a driving force in its coach, Ben Garmoe. The last time a UMBC team won a big game, it was a massive upset. If this UMBC team wins something next year, it isn't an upset anymore. Underestimate them at your own risk.
10) Duke A
Duke Mock Trial came roaring back to Nationals in Philly after failing to qualify in 2018. After the loss of their President Madeline Matthys, some probably suspected that this team had lost the star power necessary to compete at the highest level. But they came up and showed that wasn't true. This team had headlining players like multiple GAMTI award winner and All-American Tristan Malhotra, senior Riya Dange, and freshman Russian witness sensation Emil Zakarian. This Duke team powered to an 11-5 finish and 4th in the division, only losing a round to 2nd place finisher UVA. This year, Duke only loses Dange to graduation, so they return the rest of their talent to make another run for the top. This team is led by their coach, multiple All American Eric Roytman. We don't know if they possess the raw talent to make a run at the final round, but this team is experienced and talented so don't be surprised if they make some noise come April.
11) Patrick Henry A
Patrick Henry did their late coach, Dr. Frank Guliuzza, proud with their top 5 finish at the NCT in Philadelphia. Consistently found with straightforward material and a charming presentational style, Patrick Henry plays a way that translates to most regions and between eras of competitors. Next year's Patrick Henry team will lose three senior leaders from the team: All-Americans Chris Baldacci, Cooper Millhouse, and Caleb Engle. All three of them were double sided competitors and will be immensely difficult to replace. But PHC also boasts a stellar coaching staff and returning All-Americans Benjamin Crosby and Kyle Ziemnick. We expect that Patrick Henry will hit an initial decline as they adjust to the loss of their senior leaders, but these competitors and this program are too consistent to stay down for long.
12) Columbia A
Columbia has seemed a little lack-luster since the loss of the All-Star pairing of Sommers and Zurowski and their Coach Mia. Gone are the days when Columbia carried that flash and style that won them the Downtown and very nearly took them to a national final. But under new leadership by their former assistant Coach Buchanan J. Vines and AMTA president elect, Brandon Harper, Columbia has managed newer, less flashy, but cleaner style of play. This took them back to nationals this year even out of the challenging Central Islip ORCS and lead them to a 6th place finish in their division. This year they lose only one player, Hardy Hewson. They still have a roster packed with witness talent. We also expect that their records may improve slightly as they get adjusted to their new coaches and coaching style. Thus, while we don't expect the kind of top 3 finishes we were seeing from them a few years ago, Columbia is not a program to overlook.
13) Northwestern A
For two years straight, Northwestern has qualified two teams to Nationals, and for two years straight, their A team has placed 9th in their division. So while they graduated half of their A team roster last year, including All-American Nick Anderson, we expect they'll again have a number of Nationals-experienced B team members ready to step up and take their places. Among these is one of our competitors to watch, Braden Pomerantz, who has several witness and attorney awards across invites, Regionals, and ORCS. Northwestern also returns two more All-Americans from their A team, witness Olivia O'Brien and attorney Michael Zhou. Northwestern is a team that finds itself at the intersection of some different types of styles, being guided more by individual competitors than by an overarching mandate. Different attorneys bring vastly different approaches to mock. Northwestern counts on those playing off of each other and each enhancing the other in order to succeed. Although they have some rebuilding to do, we expect that their young talent will help Northwestern break their ninth place streak either way.
14) Tufts A
Last year, Tufts was one of our Nationals teams to watch for a reason- they had a range of talented competitors and a promising early competitive record. But they ended the year with a roller coaster of a Nationals appearance. After starting 0-6-2 against OSU and UVA, they came back to finish with a record of 7-7-2 and an honorable mention. While they've graduated a few big competitors including president and captain Emma Kahn and opener Ashley Alphonse, returners like Kayleigh Milano, Steven Becker, and All-American witness Arvind Goday still form a solid core for the Tufts team this year. With their creative presentation, distinct and complementary attorney styles, and typically flashy witnesses, we expect Tufts to come back to prove themselves with a strong season.
15) Emory A
Each of the past three years, Emory has gone to Nationals and won at least half their ballots. That's no small feat; they are one of only ten teams who have. However, out of those years, they have won at most 5 adjusted ballots at Nationals, topping out at a 6th place finish last year. With President and All-American attorney John Merle going into his senior year, along with Emory's well-awarded Vice President Elias Neibart, Emory has a chance to finally break through and become a serious contender at the NCT. That being said, major questions remain. Emory is losing their last President and All-American attorney Carolyn Koehnke, and All-American witness Julia Logan, both of whom had the highest individual ranks in the Temple division. Regardless, we respect Emory's consistency and don't doubt their ability to repeat an appearance at the NCT, as they have last year's B team members, who are fresh off the NCT and ready to compete.
16) UC Berkeley A
UC Berkeley comes off one of its best finishes in recent years placing 9th in their division after not placing the previous two years. While Berkeley is losing President and All-American Attorney Fatima Hasanain as well as two time All-National Attorney Smita Balaji, they still have All-National witnesses Pablo Moraga and Gurbir Singh who have both consistently awarded despite being on the same team for most of the year. In addition, they have depth. This was the first year since 2012 that Cal earned 4 bids at regionals and their B team had a respectable 4-4 record at ORCS. We expect to see the consistent national qualifiers in Chicago, competitive for a top 10 placing once again.
17) Stanford A
Perhaps the most surprising team not to place at Nationals, Stanford University continues their pattern of being a very difficult team to untangle. They don't go to many invitationals, and when they do they typically don't win them. In the past, they've hit their stride in the AMTA season. This past year was the exception to that though. Their A team failed to qualify out of ORCS, though their B team did. Then the combination team that competed at Nationals went 7-8-1 and failed to place. Stanford loses its top name competitor Jack Seigenthaler this year, as well as their other captain John Liu to graduation. But coach Thom Scher is building a sustainable structure, and they have an upcoming superstar in rising sophomore Elizabeth Grant who, even with Seigenthaler on the bench, was arguably Stanford's best attorney this year. We expect them to challenge for the top 10 at Nationals this year.
18) Ohio State B
This year Ohio State managed not only to get two teams to Nationals, but also to place BOTH teams within the top 5 in their division. That's a truly remarkable accomplishment. And OSU B didn't earn that record solely through hitting easy teams. They played Miami, UGA, Yale, and Stanford. So they played both teams that finished top two in the division (and swept Miami in the process). Led by older players like Maddie Driscoll, Julia Cash, and Anna Defendiefer, this was a unique B team in terms of the sheer amount of experience that they brought to the table. Few other B teams anywhere in the country could carry these talented and experienced players because so few A teams are good enough to have players like that on the B team. Next year, we don't expect Ohio State to demonstrate exactly the same depth that they did this year because some of these B team people will move up to fill the holes from graduation on the A team. But there are enough players returning from this B team that we wouldn't be shocked at all if they qualified to Nationals again. This B team also had the advantage of a very regimented style which tends to do well for teams with younger, less experienced players. Assuming that their coaches keep that up, we will continue to expect great things from the younger OSU team.
19) UC Irvine A
The Anteaters from Newport Beach are looking formidable as ever. The seniors they lost will remain dearly missed but their new talent is not to be overlooked. With a last name that's sure to ring some bells, Carolyn Bousmail is now an upperclassman and is coming in Hot. Sasha Yusuf, now a senior leading the program, will be a fearsome rock to their A Team bench, having picked up an award at one of last year's bloodiest ORCS. Along with great competitors, they got great coaches. Emily Shaw remains Head Coach and as a brief reminder, was the coach that got this team 1 OCS point away from the Final Round just the year before. Last year's ORCS matchups were in every sense of the word unfortunate. Though we can expect every one of their rounds to be top-tier mock trial, they have work ahead of them that needs doing if they want to have a sure chance of surviving the annual bloodbath that is Santa Monica.
20) Michigan A
The Wolverines of Michigan come into this year having been hit hard by graduation for each of the past two years. After Minneapolis they graduated their two captains who had largely driven their theories and writing, Garrett Burton and Gabe Slater. This year, they're losing their biggest name competitor in Charlotte Gemma. They failed to qualify to Nationals in Philadelphia. This is a turning point for this student run program. A lot of student run programs tend to grow into overdependence on a very small number of students who end up running everything for a couple years and then graduating, leaving the younger students to rebuild. With the particular graduation turnover that this program has faced, their younger students will face particular difficulty in filling the gaps left by these competitors. We think Michigan will be able to push back into the Nationals field this year, but we don't expect to see them place at the top.
21) Georgia Tech A
Georgia Tech was one of the programs whose B team earned their bid to Nationals. The Yellowjackets restacked after ORCS, creating a team that was a combination of A and B competitors. This resulted in a team that wasn't fully stacked, single siding every A team person on the team (including two-time TBC competitor and four-time All American Sarah Stebbins). For this coming year, Georgia Tech is losing a number of competitors from the stacked A team, including Stebbins and Ben Felder. When older competitors and program leaders graduate, it is typical to expect some growing pains the following year as the transition ensues.  But the fact that the B team was the one who earned the bid bodes well for the future of this program. We expect that Georgia Tech, led by AMTA President Will Warihay, will have enough young talent to get back to Nationals next year. But it remains to be seen whether they will be able to replace the top level star power that Stebbins brought.
22) Wesleyan A
Wesleyan is another new power on the circuit. In 2017 they had their very first appearance at nationals, but by 2019 they were already qualifying two teams. They are coached by a new coach on the circuit, Nat Warner, who, in his second year of coaching, qualified four teams to nationals. Wesleyan has the advantage that out of the two teams they qualified to nationals, they are only graduating one player (All American Heather Pincus), so they will have a large talent pool to draw from going into the 2020 season. Wesleyan also carries on the Northeastern tradition of somewhat unusual theories without pushing it to the degree of a team like Yale or NYU.  This means that they are liable to pick up some ballots by throwing other teams off without running quite the risks that other northeastern teams do. On top of that they have a likable genuine style which may be somewhat influenced by the fact that the people in this program are really nice outside the courtroom (as evidenced by their SPAMTA awards at every level of competition this year).
23) NYU A
One of the surprise teams to not qualify to Nationals last year, NYU was rife with drama that went public throughout most of the season. There was doubt whether 2018 TBC champion Nick Ramos would return at any point during the year, enough that we even named him our Preseason top attorney last year. There was the time where President Lindsey China ended up on C team before Regionals. There was the time NYU B had to withdraw from Regionals because they weren't able to field a team. And then after all of that, NYU won 5.5 ballots at ORCS and did not earn a bid. This year, they graduate the top P Closer at Shutdown Showdown and TBC competitor, Claudine Isaac. The team this year will still boast a lot of raw talent in new President Papa Yaw Sencherey and sophomore Tiffany Tam. But in order for this team to get back to Nationals in Chicago, they need to aim to have a calmer year that allows them to utilize their talent.
24) Rhodes B
The last time Rhodes Mock Trial failed to send a B Team to Nationals was in 2012. Since then however, Rhodes has stayed true to their reputation for consistency, sending two teams to Nationals for 7 straight years. Their path this coming year will not be smooth however. With 9 out of the 10 members of their A team graduating, we expect that last year's B team roster (which itself had graduating members) will leave no returners for 2019-2020 Rhodes B. However, both Rhodes C and D earned automatic bids out of Regionals, with Rhodes C taking 6 ballots at Dallas with a CS of 20 and a PD of +60. Look for the performances of rising sophomores Sheridan Hardy, Elizabeth Baldwin, and Sam Justice, all of whom as freshmen won an award either at Regionals or at a Tournament with >25% 2018 NCT teams, both for the strength of this year's Rhodes B and perhaps a glimpse of the ghost of Rhodes A future.
25) Northwood A
Famous for winning Spirit of AMTA at big tournaments, Northwood will return their top two competitors next year in All-Americans Simeon Lawrence and Chris Grant. Grant will come back as perhaps the most experienced competitor in the entire country as a fifth year senior with multiple Downtowns, Nationals, and Trial by Combats under his belt. Grant's smooth and calming presence combined with rock solid fundamentals make him a consistent and top tier performer. However, Northwood is losing some foundational members of its team as well, including captain Zach Messner. The question for this team to face this year is to see if they can fill in the foundation of their team and utilize their top competitors in order to get back to Nationals for the third year in a row.
Individual Competitors to Watch 2019-20
We analyzed tab summaries from the past three seasons as well as compiled thoughts based on the rounds that each of our contributors have seen. From that analysis, we've crafted a list of accomplished individual competitors returning for the upcoming season that we think will perform particularly well. Some of these individuals made the list for taking an extraordinary number of awards this year, others may have taken fewer awards (particularly if they were overshadowed by someone who has now graduated), but based on our experiences with these individuals we think all of them will be stand outs this year. Please let us know who we've missed - we're certain we don't have every elite competitor in the country on this list!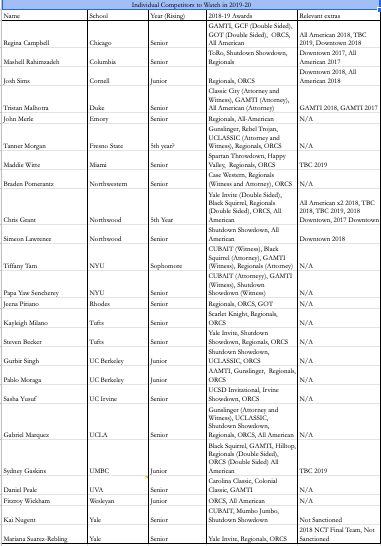 Mock Analysis is My Drug Preseason Predictions
Below, we've included our predictions for how some major events will turn out in the 2018-19 season. These are the result of a lot of discussion and debate among our contributors. As you would expect, and appropriate of the inherent subjectivity of mock trial, we weren't able to reach a consensus on any of the questions. But the predictions below represent the majority opinion of our group. We're particularly excited to revisit this list at the end of the year and see how we did! If you have other predictions like these feel free to share them.                                                                                                                                 .        
GAMTI champion - University of Virginia
Program most likely to get two teams to NCT - Rhodes College
Team that goes undefeated through Regionals & ORCS - Miami University
Most likely for B team to outplace A team - Ohio State University
Teams in the NCT final round - University of Chicago & University of Virginia
National Champion - University of Virginia
Top Attorney - Regina Campbell, Chicago
Top Witness - Kai Nugent, Yale
Permissions in this forum:
You
cannot
reply to topics in this forum